What is New Renaissance?
You certainly know what is called the Renaissance era and which, from a historical point of view, took place during the 15th and 16th centuries.
During this period, Western humanity experienced a huge artistic revival. We refer you to your favourite books on the subject.
Cycle astrological
This period of the Renaissance is connected with the astronomical-astrological cycle, which is that of the planet Venus. Venus, in its heavenly path, performs various cycles, all more or less known.
The largest of these cycles is that of 1199 years, which corresponds to 150 cycles of 8 years [or 750 conjunctions with the Sun], sometimes called the "pentagram of Venus." Indeed, it is well known that Venus draws a pentagram in the air in eight years [or five conjunctions with the Sun]. The pentagram of Venus rotates slowly in the sky, and it recurs in the same place of the zodiac, exactly, after almost 1200 years! This is the mega cycle of Venus, governing the civilisations. Over the centuries, observers have noted that changes in civilisations follow a cyclic rate of 600 years, within a few months, that is to say the exact half of the mega cycle of Venus, nearly 1200 years.
The Last cycle
when was the last time a 600-year cycle began? It was the time of the Renaissance: in 1412 [major conjunction Sun-Venus].
Since 2012
Thus, it is in 2012, June 6th, to be precise, that a new Venusian cycle started!
So, for about three years, we have been experiencing the beginnings of a New Renaissance, under the impulse of Venus.
During the next few decades, a new art will develop and new artistic, cultural even social impulses will emerge, bringing new hope for humanity in search of meaning and a future more in keeping with the values and ideals of the human being.
For some time, many people in different countries have been "capturing" the influx of this New Renaissance, without understanding what exactly it is.
This current New Renaissance is here today and it is just waiting to blossom.
Since we have the privilege and opportunity to experience these initial moments of the New Renaissance, let's make the most of it by revealing the best of ourselves!
A designation that we, the artistic collaborators Céline and Pierre Lassalle and Lucidaëlle, have chosen, in order to define this state of mind in a method, a complete process ranging from inspiration, the artistic discipline to dissemination. The source and mystery of this practice comes from this Occidental meditation (created by Pierre Lassalle), that allows us special access to the spiritual world, from which we consciously find inspiration.
Practice this new art
That which we create is always "bigger than us," that is to say, a fraternal work, carrying out a message well beyond our own ideas or beliefs. We do not create, in this spirit, by pouring our subconscious on paper or on canvas and by letting our instinct "speak" (a completely out-dated method today). It is a conscious service linked with the spiritual world.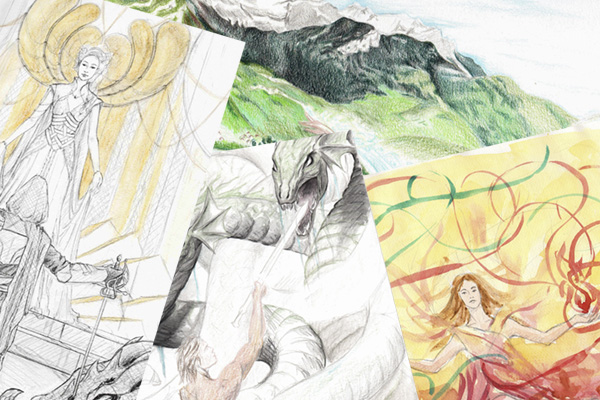 Study of a subject and western meditation, with conscious access to the spiritual world, on studied spiritual knowledge.
Know that all knowledge is a spiritual being. 
Meeting with a suprasensible entity and/or with the spiritual image that is handed to us, like a "mirror".
Pratice and Transformation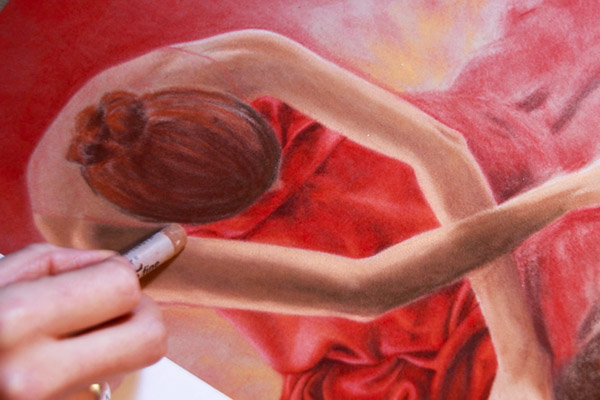 Artistic practice to manifest the spiritual image that has been inspired in us. This outcome requires inner work, a transcendence that transforms our artistic practice, and ourselves, in depth.
In essence
Artistic creativity is the result of a struggle,
whose blossoming is the true beauty.
[Lady Anael, from the book Art Sophianic]
Some fundamental elements of this new art, which participates in a New Renaissance. Values that allow the artist to transcend himself more and more towards the best of himself and the quality of his art… Because the evolution of art and of the artist has limits only those he gives himself.
Connection to the celestial world
Conscious Inspiration
Wisdom
Sincere expression
Bigger than the Self
Collaboration
Willingness to exceed
Opening up to the Future
Perseverance
" Art is Nature's daughter & priestess
And, like her divine Mother, wishes to stay pure.
Her sacred vow is to bring Light on Earth,
So that deified life would glorify God the Father."
" As peaceful and fluidic Wisdom
Unites with the fire of passion, like a promise,
Then the brazen union transforms the mineral nature
And Art becomes a vitale spiritual communion."
" While creating, if the artist pours his precious substance,
Within this matter whose transcendence he thinks of
Then Beauty will become eternal image,
And thanks to the radiant work of art will emerge a new Earth."
Poem by Pierre Lassalle, translation Celine Lassalle
The art of poetry and writing
Discover articles by Céline and Pierre Lassalle, the results of some of their research, their artistic experiences, their methods…
Discover the french book
Art makes its revolution! Awaken your creative and artistic spirit, and be at the rendezvous of your own rebirth by making your life and your art a work of greatness…